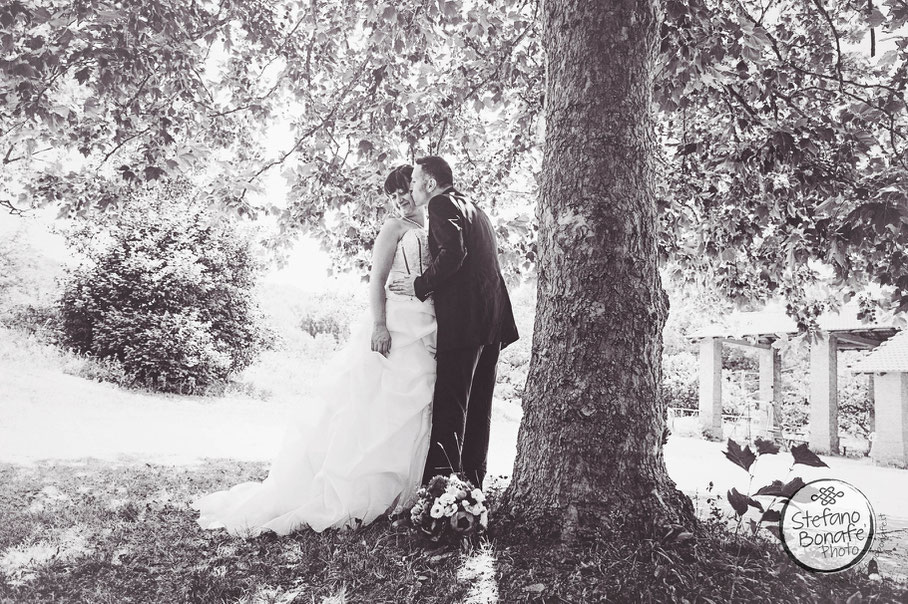 Oggi vi vorrei raccontare qualcosa del matrimonio porpora e lilla di Stefania e Marco.
Come dico sempre a me piace conoscere gli sposi prima del Grande Giorno, per poter raccontare al meglio la giornata in modo "personalizzato" e non con un servizio standard che vada bene per tutti: quella giornata sarà un mix tra i gusti, le esperienze e gli affetti di due persone che hanno fatto un viaggio insieme, non conoscendoli potrei fotografare quello che vedo, ma mi interessa anche dare il giusto valore ai momenti e ai particolari più vicini ai cuori dei due protagonisti.
Stefania e Marco mi hanno presentato, già nel primo incontro preliminare, quella che sarebbe stata una dei protagonisti di questa calda giornata di luglio, la vedrete in molte delle foto: la loro cagnolina, un componente fondamentale di questa famiglia e un invitato garbato al ricevimento, che ha fatto una comparsata anche sulla torta nuziale.
La torta-riassunto del loro viaggio insieme rappresentava in pieno non solo il tema scelto per la giornata, ma anche la giornata stessa, iniziata in Liguria, passata poi per un bed & breakfast che ho avuto il piacere di conoscere grazie a questa giornata (e su cui credo presto dedicherò qualche riga perchè è stato un luogo davvero tranquillo ed accogliente da incontrare lungo il nostro viaggio www.cascinadellesignore.it), e concludendosi al ristorante l'Albero dei Sogni, la vera cornice per il racconto della loro storia. Vi lascio fare un piccolo viaggio attraverso questa giornata con alcune foto.
Today I'll tell something about this pourple lilac wedding.
Stefania and Marco, first time I met them, came with someone will become the leading actor of their Big Day: their dog. You will see her in the pictures, she is an important element in their family, the wedding party and the wedding cake as well.
This cake was the sumary of their travel together along the life and the Wedding day was a little travel as well, it began in Liguria with the Ceremony, passing through a quiet and friendly b&b, http://www.cascinadellesignore.it/, ending to the restaurant where their travel together was told. 
I let you travel with them with some pictures.